Essie Summer 2018 Collection Swatches and Review
Essie's summer collection will have you making harmony - remember young, wild & me is the only way to be!
My Thoughts on the Essie Summer 2018 Collection
Hello lovelies! Today I have the Essie Summer 2018 Collection for you all. I know I am a bit behind on reviewing this collection, but I just had to share these swatches because they are too gorgeous not to!
Essie always puts together a little paragraph weaving in all the names of the polishes in their collections:
This summer let's walk barefoot in a sunny daze and spread the good vibes all daisy long. With everyone making harmony, there is no doubt the fuchsia is bright. It's the age of empower-mint. So this summer don't forget, young, wild & me is the only way to be!
Photo from Essie.com
I won this collection in an Instagram giveaway, so these were provided for review.
Now onto the swatches...
EMPOWER-MINT
| Empower-mint is a classic turquoise-mint shade from Essie. This polish was pretty patch at the 1st coat, and I still had some bald spots at 2, so this takes a full
3 coats for full opacity
.
ALL DAISY LONG
| All Daisy Long is such a gorgeous opalescent pearl shade. The green to pink iridescence in this polish is so strong, but shades like this are usually 3-4 coaters. I was pleasantly surprised to see how this built up, and here
I have 3 coats for almost full opacity
.
SUNNY DAZE
| Sunny Daze is a really pretty camel brown with super strong gold shimmer throughout. This is a really great "nude but better" on my skin tone, and my surprise favorite in this collection.
This was 2 coats for full opacity
, and it had a perfect formula.
YOUNG, WILD & ME
| Young, Wild & Me is a dusty rosy pink polish, with a very creamy formula that self leveled and was so beautiful.
This was 2 coats for full opacity
.
THE FUCHSIA IS BRIGHT
| Incase the name didn't give it away, The Fuchsia is Bright is a bright fuchsia pink. If you've been around here a while, you know this is not a shade that I would ever choose to rock -- but it is a fun summer shade. This had a crelly formula, but was
able to built up to full opacity in 2 coats
.
MAKING HARMONY | Making Harmony is a dark mauve purple nail polish with subtle mahogany red undertones. This polish stunned me when it was opaque in 1 coat! Yes, one. I did a second coat to even out a few of my nails, but if you are careful on the first coat this is a 1-coater.
Final Thoughts on the Essie Summer 2018 Collection
Overall, I think this is a unique and fun summer collection. I was so pleasantly surprised by how much I fell in love with these, and have been rocking Sunny Daze for almost a full week now!
I probably wouldn't have picked these up on my own, but I am so happy I own them. The standouts for me are All Daisy Long and Sunny Daze!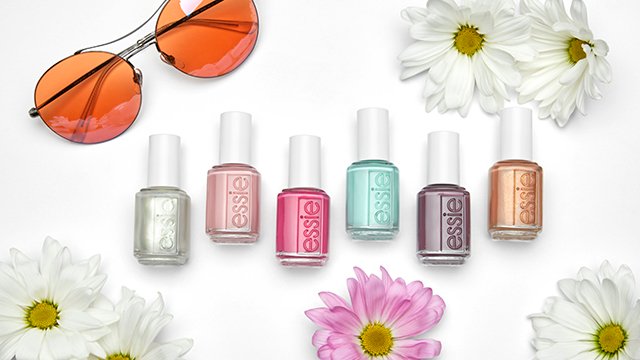 Photo from Essie.com
*This post is not sponsored. No affiliate links are used. These products were gifted to me by ESSIE for consideration.*